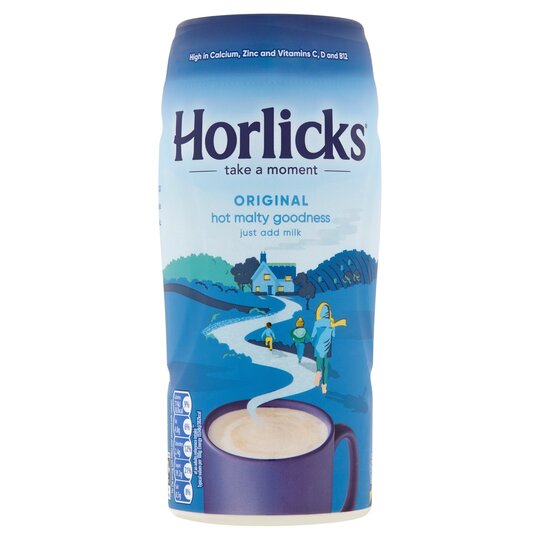 Horlicks Malted Drink Mix 500g
Regular price $18.00 Sale
Horlicks 500g Horlicks is a malted milk powder that you mix with warm milk to make a drink. It is wheatier and less malty tasting than other such drinks. The basic ingredients Horlicks is malted barley wheat flour and evaporated milk.
Malted Drink
Enjoy as part of a balanced diet and healthy lifestyle.
Horlicks deliciously creamy, malty taste is traditionally crafted using malted wheat and barley enriched with vitamins and minerals.
In the hectic rush of modern life, it remains as richly warming and comforting as ever. So relax, unwind and take a moment with Horlicks, at any time of day.
First developed by brothers William and James Horlicks, since 1873, Horlicks has supported explorers on the way to both poles, nourished soldiers through two world wars, and fortified athletes in the Olympics.
Its contents may settle during transit.
Reduce Reuse Recycle
100% recyclable jar, contains recycled plastic
Cap - Recycle
Jar - Recycle
Remove Sleeve - Sleeve - Don't Recycle
Horlicks is a registered trademark used under license by Aimia Foods Limited with the permission of the Trademark Owner.
High in calcium, zinc and vitamins C, D and B12
Take a moment
Hot malty goodness
Just add milk
Free from artificial: colours & flavours, sweeteners, preservatives
Suitable for vegetarians
High in calcium, zinc and vitamins C, D and B12
Information
Ingredients
Wheat 41% (Wheat Flour and Malted Wheat), Malted Barley 31%, Dried Whey (Milk), Calcium Carbonate, Dried Skimmed Milk, Sugar, Palm Oil, Salt, Anti-Caking Agent (E551), Vitamin Mix (Vitamin C, Niacin, Vitamin E, Pantothenic Acid, Vitamin B6, Riboflavin, Thiamin, Folic Acid, Biotin, Vitamin D, Vitamin B12), Ferric Pyrophosphate, Zinc Oxide
www.jollygrub.com