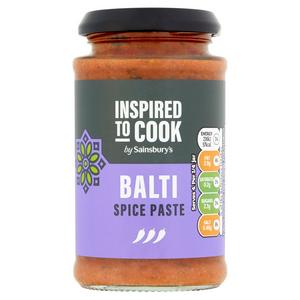 Sainsburys Balti Spice Paste 200g
Regular price $10.50 Sale
Sainsbury's Spicy Balti Curry Paste, Inspired to Cook 200g
Tomato, garlic and spice paste.
Ingredients
INGREDIENTS: Water, Crushed Tomato (13%), Rapeseed Oil, Coriander Powder (4%), Garlic Purée (4%), Ginger Purée, Cumin Powder, Sugar, Coriander Leaf, Tomato Paste (3%), Onion Powder, Fennel Powder, Salt, Modified Maize Starch, Acidity Regulators: Lactic Acid, Citric Acid; Chilli Powder, Cumin Seed, Brown Mustard Seed, Black Pepper, Stabiliser: Xanthan Gum.
Preparation and Safety
Cooking instructions: Hob
To cook Chicken Balti on the hob. Before cooking: Heat 15ml oil in a frying pan or wok over a medium heat. During cooking: Once the oil is hot add 1 diced medium onion and pan fry for 4 minutes until soft, stirring regularly. Stir in 400g of diced chicken breast and a jar of Balti Curry Paste and fry for 4 minutes. Add 100ml of water, a 400g can of chopped tomatoes and 2 tbsp of tomato paste and stir in. Simmer for 12 minutes or until the chicken is cooked and the sauce has thickened. After cooking: Check food is piping hot. All cooking appliances vary. This is a guide only. Do not reheat once cooled.