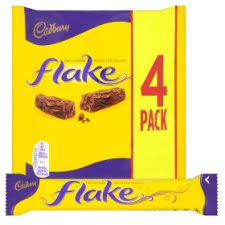 Cadbury Flake Multi Pack 4 bars
WARNING SUMMER SHIPPING  hot weather chocolate a  can melt if exposed to heat in transit. Take care in ordering this item during the Summer Months as we do not refund or credit items spoiled by exposure to heat in transit.
The crumbliest, flakiest milk chocolate.
By Appointment to H.M. The Queen Cocoa and Chocolate Manufacturers Cadbury UK Ltd., Bournville.
This decadent Cadbury Flake bar is made from the crumbliest, flakiest chocolate, for a delicate melt-in-the-mouth texture
Each pack contains 4 bars, ideal for an afternoon treat and for that sweet chocolate escape at work, home or on the go
Suitable for vegetarians
Information
Ingredients
Milk, Sugar, Cocoa Butter, Cocoa Mass, Vegetable Fats (Palm, Shea), Emulsifier (E442), Flavourings, Milk Solids 14 % minimum, Cocoa Solids 25 % minimum, Contains Vegetable Fats in addition to Cocoa Butter
Storage
Store in a dry place. Protect from heat.
Made in UK
www.jollygrub.com