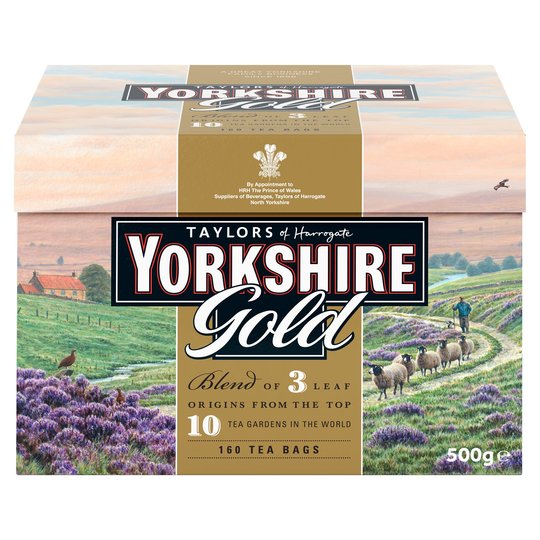 Yorkshire Gold 160ct Teabags
Regular price $33.75 Sale
Yorkshire Gold 160 Tea Bags
Help Us to Save the Rainforest
Over the years we've planted 3 million trees, and we're now aiming to help protect and plant an area of tropical forest the size of Yorkshire.
Find out more at www.yorkshiretea.co.uk
We are a member of Ethical Tea Partnership
Our Finest Blend
Here at Yorkshire Tea we know that the best tea is about the best blend of leaves. And the finest blend we make is Yorkshire Gold.
We choose teas from our three favourite origins - Assam for richness and body, Kenya for vibrancy, and Rwanda for its beautiful golden glow - and we buy them from the top ten tea gardens in the world.
Back home in Yorkshire, our master blenders bring these luxury leaves together to make a rich, smooth and incredibly satisfying brew.
By Appointment to HRH The Prince of Wales Suppliers of Beverages, Taylors of Harrogate North Yorkshire
Blend of 3 leaf origins from the top 10 tea gardens in the world
Great taste 2014
Rainforest Alliance Certified
Pack size: 500g
www.jollygrub.com